Anyone else as excited as I am about the season premiere of White Collar tonight?
If you haven't heard of it, let me introduce you to your new addiction...I think it's one of the best shows on TV.
Let me start with a little back story on how I got hooked...
It all started with Glee...(stay with me, I promise it all makes sense)...specifically, this episode...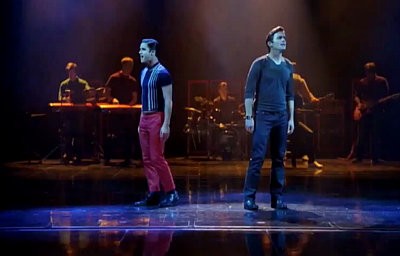 ...and I was all like "who is that guy" and naturally, I Googled him...and the web was all like "It's Matt Bomer, duh, where have you been????"
And that led me to White Collar, which I started watching on Netflix, which I watched like all three seasons in one week...to leave me waiting several more months for the new season which is TODAY!!!
Seriously, this show is on USA, but it is more like a major network drama - and I just love Matt Bomer! He's such a cutie! And his character, Neal Caffrey, is adorable!!!I mean he's got style, he's got the looks, he's an international art thief that paints, recites poetry and he can sing??? (See how I just slipped in the thief part? I can overlook that fault because of all of his other great traits.) I mean his hair alone gives Dr. McDreamy a run for his money.
It also stars Tiffani Thiessen (don't act like you didn't watch Saved By the Bell) and Willie Garson who played Stanford in Sex and the City (Carrie's Gay Best Friend). Glee, Saved By the Bell and Sex and the City???? I mean the that alone should tell you this is good television...
Check it out if you're looking for something on the tube tonight...9:00 EST, USA Network! I'll leave you with some eye candy...(and yes, I know his preferences, but a girl can dream)